Labelling on food is important because it helps consumers make healthy and informed choices about the food they eat. Furthermore, the packaging is essential because it helps them identify products and enhances the appearance of labels.
A lot of work goes into a food label, as labels are highly regulated. In Canada, labels must adhere to the standards of the Canadian Food Inspection Agency (CFIA), which covers everything from the locations of the food label to the best-before date.
Because labelling food is a job within itself, food companies hire professionals to ensure that food is labelled correctly. Food labelling specialists play an integral role in food businesses.
Food labelling specialists are responsible for food labels
Food Labelling Specialists (FLSs) review, create and maintain regulatory information (e.g. product specifications, product labels, nutritional and allergen information) related to food labels. They review new packaging proofs at all design stages to ensure the accuracy of grammar, ingredients and nutrition facts. All labels created for food products must be compliant with corresponding regulatory agency policies, regulations, and standards (e.g. CFIA, Health Canada, FDA, USDA).
FLSs continually communicate with different parties during the development process and ensure that critical documents are maintained according to company requirements. Additionally, they keep up to date with regulatory changes and updates through various industry and watchdog services.
Finally, food labelling specialists are responsible for database management and inputting accurate manufacturer specifications into labelling databases. They collaborate with different departments when specifications are missing pertinent information or an ingredient needs to be updated.
Food labelling specialists have educational backgrounds in science
It is not uncommon for food labelling specialists to have an education in food science, nutrition, life sciences or culinary arts. Because regulatory affairs is a profession that can expand to many other industries, sometimes FLSs have work experience in science, healthcare, engineering and business.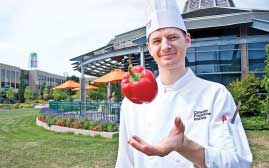 However, within recent years, there has been a rise in the number of colleges offering one to two-year certificates and degrees in regulatory affairs. These programs provide the skills and knowledge to pursue careers related to regulatory affairs within the healthcare, food, chemical and agrochemical industries.
If a graduate is looking to enter this profession straight out of school, they should ensure that their schooling has coursework focusing on industry guidelines, such as those administered by the US Department of Agriculture (USDA) and the Food & Drug Administration (FDA). These courses provide a solid foundation when entering the industry.
Food labelling specialists participate in meetings
If a product technologist develops a new formulation of ice cream, they must uphold standards of identity created by food regulating bodies. FLSs participate in team brainstorming meetings to provide creative options and solutions, assisting brands in the development of new product names and claims. They ensure that product formulations adhere to proper naming principles to prevent companies from falling into trouble down the line.
For example, ice cream has a standard of identity that states if a manufacturer wants to call a product "ice cream," it must have a certain percentage of cream in a formulation. Food labelling specialists know this information and communicate it to product development during brainstorming meetings.
Food labelling specialists must keep up with regulations
Keeping up with changes in food regulations is a core task of any FLS. They must keep up with current food labelling regulations because they are constantly changing. In Canada, food labelling regulations are dictated by the CFIA, while in the United States, these regulations are created by the Food and Drug Administration.
To stay on top of changes in food regulations, FLSs become members of key trade associations and groups, participate in conferences and enroll in newsletters from lawmakers. Eventually, these professionals become in-house experts or consultants regarding the compliance of product claims and inform the rest of their team.
Food labelling specialists contribute to food labelling software programs
For an FLS, being organized means pulling up any food label at any time. Most facilities use specialized software, such as Genesis and ESHA, to store information on food labels. It is the responsibility of a Food Labelling Specialist to contribute to the maintenance of the food labelling software programs. Maintenance includes updating ingredient information if changes are made to a supplier and changing the nutritional formulation of a product if R&D changes a product recipe.
Food labelling specialists develop and provide technical information
Food labelling specialists become experts on products in their company due to their familiarity with label and food regulations. FLSs communicate labelling requirements to Quality Assurance, Research and Development Technologists, and Packaging Engineers other stakeholders.
Food labelling specialists keep up with multiple projects
Food labelling specialists must juggle many different projects at once. For example, the projects that a FLS might juggle could include maintaining document trackers, verifying multiple food labels and updating their knowledge of current food regulations. FLSs effectively manage multiple projects by setting manageable goals, keeping to a schedule and tracking progress.
Food labelling specialists pay attention to details, prioritize and use customer service skills
Being a Food Labelling Specialist requires a wide range of skills. However, there are a few which are more essential than others. These skills include:
Attention for detail – Nothing about a label can be wrong. Even the smallest incorrect detail can mean huge repercussions for a company down the line. FLSs review new packaging proofs during every design stage to ensure accuracy and proper grammar. To successfully achieve correct and accurate results, they must have an eye for detail.
Prioritization skills-

These professionals work on various projects daily. In order to adhere to deadlines, Food Labelling Specialists must prioritize their time, knowing what task is the most urgent. There is limited day-to-day supervision and guidance when handling unique situations.

Customer service skills – Although FLSs don't personally deal with customers, they do work with outside companies. These professionals have excellent communication skills and customer service skills to tactfully work with all levels of personnel. For example, they may work with Research and Development when creating a new product label.