Wheat from Saskatchewan, beer from Ontario and potatoes from Prince Edward Island. Food is able to move around the country at a pace like never before. Due to advances in transportation, food is now available all year round and this is a good thing for food processors.
However, there is more to transporting food than just throwing it on a truck. Products need to be accounted for, palatalized, stored in buildings, and so much more!
Who are the professionals who help to get this product in and out of manufacturing plants and out on the road? Shippers/Receivers!
They are required in every manufacturing plant no matter the size. Shippers/receivers help get food to your plate.
Shippers/Receivers ensure the movement of food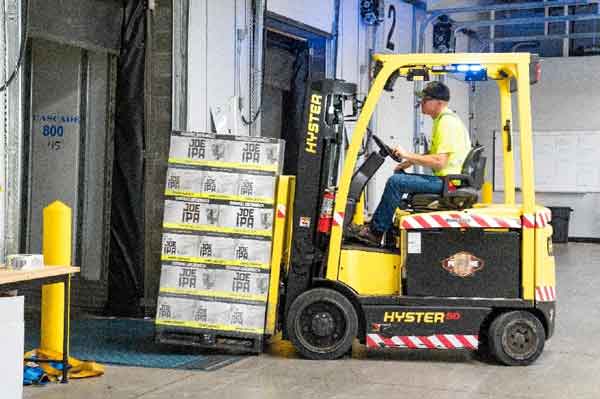 Shippers/receivers are responsible for coordinating and scheduling all outbound and inbound products to manufacturing plants. They perform the loading and off-loading of trucks to get food products into and out of plants.
Shippers assemble skids, pack goods and prepare shipping instructions. Receivers, in contrast, unpack shipments and put away products in the specified areas of the warehouse. Even though this profession is fast-paced, they always act in a safe manner to protect themselves and their co-workers.
Furthermore, they coordinate with production to ensure materials are ready for long-distance loads. As a result, they act as a liaison between the shipping department and all functional departments/areas (production, management, quality).
The role of shipping/receiving varies depending on the size of a warehouse facility. In smaller locations, shippers/receivers will perform the same duties, while larger establishments will have a more defined role for these workers.
Shippers/Receivers have physical jobs
Shippers/receivers generally have very physical jobs that involve pushing, twisting, bending and heavy lifting. Although their jobs generally require them to use forklifts, there are times they have to physically load, sort and move shipments by hand. For example, if a shipment was sent on an incorrect size of skid, they may have to physically transfer the boxes to a proper-sized skid.
Additionally, when warehouses receive shipments, the receivers may be required to break down skids so each material can be placed in appropriate storage areas. Shippers, on the other hand, stack pallets correctly, putting heavy products on the bottom and lighter ones on the top. This isn't always the case in highly automated factories, but there are times this might occur.
Shippers/Receivers don't need post-secondary degrees
The job of shipping/receiving is traditionally an entry-level position. This means that a high school diploma or GED is usually the only educational prerequisite required. Many companies provide onsite training. However, this is a position where having a valid forklift and high-reach license is important.
A forklift certification is easy to obtain, but it involves a certification exam and in-class training. Most major cities have somewhere where training can be obtained.
As you gain experience in this position, it could lead to more advanced positions such as shipping and receiving supervisor or warehouse manager.
Shippers/Receivers sometimes pick orders
For shippers to actually get the product out of the warehouse, they need to "pick" the items. Picking is a term used to describe the act of going around the warehouse and collecting items for a shipment.
This might be done on the ground level or require the use of forklifts and reach trucks. Shippers make sure to pick items on a "first-in, first-out" basis, as this ensures the freshness of a product.
Shippers/Receivers comply with applicable legislation
Food safety does not end with the quality department. It continues through every step of the food production process.
Therefore, shippers/receivers have a good knowledge of GMPs, SOPs, Health & Safety legislations including WHIMS.
For example, shippers/receivers upon the receipt of the trailer will inspect it to make sure that there are no hazards which could impede the safety of food. This could include open boxes and unsanitary conditions.
Shippers/ Receivers must follow documentation
When a shipment is received at the manufacturing plant, it is a receiver's job to check the received products with the purchase order. A purchase order (PO) is a document sent from a buyer to a supplier. It provides information such as what was purchased, what was shipped and how much of each item. Checking documentation is also important because it allows receivers to check if there are inventory discrepancies between orders.
Shippers/Receivers have attention for detail
Shippers/receivers are responsible for the accuracy and quality of all products being shipped or received. They actively inspect boxes to make sure they follow procedures. They check that there are correct items on the skid leaving and entering the facility. This includes communicating when special or non-stock items have been received and stored.
Shippers/Receivers have this set of skills
Being a shipper/receiver requires a range of skills however there are a few which are more essential than others. These skills include:
Ability to work in a fast-paced environment– Working in a fast-paced environment can leave you drained at the end of the day. Shippers/receivers need to thrive in these types of environments because this is a daily occurrence. If they don't enjoy this work environment, then they won't effectively carry out their duties.
Ability to prioritize- As it was just mentioned, warehouses are fast-paced environments which means that shippers/receivers need to be able to prioritize their time. They have to plan and organize their own tasks so that shipments can go out on time. Their ability to prioritize gets better as they gain more experience in this role.
Numeracy- All though it might sound simple on the surface, shippers/receivers need to have a strong ability to count and track information as a lot of their job requires this skill. Shippers/receivers take count of things such as the number of skids and boxes on a truck. Furthermore, they must keep track of their actions which is typically done through a handheld device.