Food and beverage processing is one of Canada's largest manufacturing sectors and there are many professionals who have helped it to succeed.
A lot of product can come out of a single manufacturing plant and that is no mistake. Proper schedules are put into place to ensure that efficiency is high.
With all the people involved in production, it is hard to believe that a single product can be produced. Production managers are the individuals responsible for making sure that food plants are used at the highest capacity.
1. Production managers oversee food manufacturing
Food production managers oversee the day-to-day operations of food processing plants. By planning, organizing and controlling production they help to ensure that plants produce correctly made products on time and on budget. The main duty of a production manager is to direct and supervise the activities of food production staff this includes setting tasks, developing production systems and improving plant operations.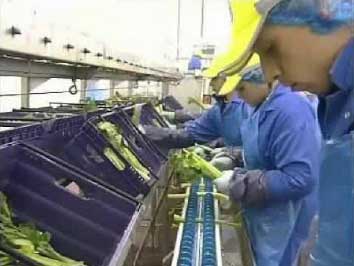 Production managers supervise production workers to maintain teamwork, motivation and safety so that daily production targets are achieved. Managers oversee the hiring, orientation and training of production workers.
Once hired, they work with employees to improve their performance by conducting reviews, identifying performance issues and helping employees with improvement plans.
An important aspect of their job is ensuring that production team members work in a safe manner. They achieve safety by establishing a culture of safety, creating safety programs and engaging in regular communication with staff.
Production managers are also responsible for tracking daily production numbers to maintain on-schedule production. They track the competencies of workers to improve efficiencies, how much waste a production line is producing and monitoring production-related
inventory levels. All these values allow production managers to determine where improvements can be made so that productivity can improve.
2. Production managers are master planners
Production managers actively manage production lines so that the highest quality product is produced at the lowest cost possible. Managing lines is in part done through proper planning and scheduling of day-to-day production.
Although this might sound like a simple job, deep down it's quite complex. Production managers direct staff so that production schedules are met and optimized for weekly production schedules. They organize workflow in such a way that secures maximum efficiency and minimized changeover times between shifts.
In smaller companies, production managers schedule what product goes on what machine. Information such as ingredient inventory levels, staff schedules and the number of orders help them to figure out the quantities to make on a schedule. For example, a production manager could develop a schedule that says the company will make 10, 000 jars of peanut butter on Wednesday with ten workers on one production line.
3. Production managers are effective leaders
Production managers are responsible for providing leadership to their team members. It is imperative that production managers have strong leadership skills because plant safety and productivity reflects on their ability to lead.
These leaders make sure that all personnel on the line are properly trained and know how to work in a safe manner. If required, production managers take proper disciplinary action if production staff do not work according to plant safety rules, policies and procedures.
4. Production managers have diverse educational backgrounds
The education needed to become a production manager is quite flexible. In some plants, you will find production managers that only possess high school degrees. This is because they started as production staff and worked their way up the ladder. Taking this path usually involves starting as a production floor worker and then working your way up to a shift supervisor.
In contrast, other companies (usually larger ones) require potential candidates to have university or college degrees in food science, mechanical engineering, manufacturing, business or a similar technical field.
Companies usually seek out managers with extensive amounts of experience both in a supervisory role and working in a manufacturing plant.
5. Production managers have healthy relationships
Production managers lead teams to achieve goals and solve problems. Teams who have good relationships with their supervisors produce better results and have a better-quality work environment. Effective production managers communicate and motivate their team, building strong relationships along the way. They make them feel like valuable members of the company and always provide them with the information needed to complete their jobs.
6. Production managers care about safety
Production supervisors always put safety first. They emphasize safe work environments by promoting a safe work environment amongst team members. Production managers create safe work environments by being knowledgeable about the latest policies and regulations set forth by various governments.
Production managers are also responsible for planning preventative maintenance to enhance safety. Preventative maintenance is predetermined work that is performed to a schedule with the aim of preventing the wear and tear or sudden failure of equipment components.
By properly maintaining machinery, supervisors reduce the risk of failing machines and endangering people.
7. Production managers complete a lot of paperwork
Quality assurance isn't the only ones who complete paperwork! There is a lot of paperwork involved in being a production manager as well. Despite technological advances in the food industry, some factories still use pen and paper while others use tablets to keep track of things like daily production and sanitation checks. Production managers verify these documents to ensure that all tasks are completed. Paperwork also allows production managers to show proof that certain procedures were performed
8. Production managers manage their time, are decisive and are innovative
Being a production manager requires a wide range of skills. However, there are a few which are more essential than others. These skills include:
Time-management – These professionals are good at figuring out the processes necessary to get things done. Production managers understand how to combine and separate tasks into a efficient workflow.
Decision-making – Production managers make key decisions in a timely manner despite having incomplete information in pressured situations. Decisiveness relies on confidence and knowledge, which is built up by experience. Over time, production managers can assess what problems are likely to arise during a project and quickly decide on the best solution.
Innovation – R&D aren't the only ones with a creative flair. Production managers also bring good ideas to the table through sound judgement and years of experience. They have a way of bringing out the creative process of others and predict how potential ideas may play out by understanding their staff.