If you ever have a problem with a product, you can call or email the product's company for help. Whether you are emailing or phoning, a customer service representative is on the other end of the line.
These professionals keep people happy, working behind the scenes as a liaison between customers and the business.
Customer service representatives interact with customers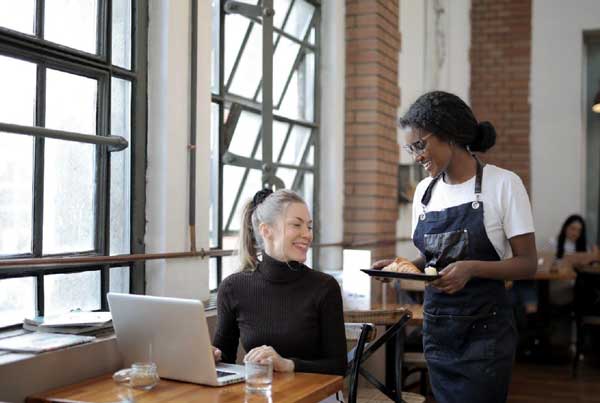 Customer Service Representatives (CSR) interact with customers on behalf of a company. They answer customer questions, resolve customer complaints and process orders. Customer service identifies problems and concerns for customers by communicating effectively.
They resolve product or service problems by clarifying customers' complaints and determining the cause of the problem. Using the information provided and company standards, they select and explain the best solution to solve the problem. Many times, CSRs are responsible for inputting customer orders and taking payments. If a customer needs help placing an order or wants to change an order, a CSR walks them through the proper steps. In addition, they are responsible for promptly informing customers of shortages on their orders. This includes communicating with various departments to find out the status of shipments.
Customer service representatives build customer relationships
Customer service representatives build and foster customer relationships by showing customers that they genuinely care and by finding out what their customers value. If a shipment is going to be late, they communicate ahead of time and show appreciation to the customer. Customer service communicates with customers regularly and uses communication to assess, monitor and develop the relationship.
Customer service representatives do not need post-secondary degrees
CSRs have a variety of educational backgrounds, as this is a profession in which there is no standard degree. Typically, these professionals have at least a high school diploma because they receive on-the-job training to learn the specific skills needed for the job. However, if students are looking to achieve a higher role, such as a director of customer service, they should obtain a university degree or equivalent.
Customer service representatives perform administrative tasks
After each call, a CSR is responsible for updating their customer service database. A database with inputted information allows a company to identify any present trends. This information leads to insights that help the product development team. For example, if many people complain about the flavour of a new product, this could lead to a push in changing the formulation of the product.
Customer service representatives have composure
One of the most impressive skills that any CSR has is the ability to maintain their composure during stressful times. They always maintain a positive, empathetic and professional attitude toward customers. This can be a difficult task when customers are being difficult, but if they stay calm, they are better equipped to satisfy a long-time customer than a representative that can't maintain their composure.
Customer service representatives deal with ambiguity
Customers may not always give the full picture when it comes to a problem. A customer may give false information or half of the relevant information needed to solve a problem. There is a variety of different reasons why a customer might do this, such as customers looking to get a refund or genuinely not keeping track of all the information. A CSR identifies vital pieces of information needed to satisfy a customer.
Customer service representatives have commercial awareness
Customer awareness is described as having the ability to understand all aspects of the business world and situations from a commercial perspective. Being able to understand where your organization sits in the bigger picture affects how you make decisions. CSRs demonstrate their commercial awareness by knowing issues that their industry faces and information surrounding competitors.
Customer Service Representatives resolve conflicts, multitask and listen
Being a Customer Sales Representative requires a wide range of skills. However, there are a few which are more essential than others. These skills include:
Listening – Active listening is the foundation of effective communication. For CSRs to solve problems, they engage with customers and make them feel special. Active listening fosters an understanding and empathy for the customer.
Conflict resolution – No matter how hard CSRs try, they will come across a time when a customer is angry and refuses to listen. CSRs have the ability to analyze situations and come up with the best solution to diffuse the conflict and turn it around to satisfy the customer.
Multitasking – When a CSR responds to a phone call, they are also responsible for recording the incoming information that a customer provides. During a call, they look into databases, write down information and sometimes talk with other coworkers. CSRs need to be comfortable multitasking because it is an integral skill for this profession.