Butchery is one of the oldest professions in the world of food and beverage. This profession dates all the way back to the domestication of livestock, when butchers formed guilds in England. That's as far back as 1272!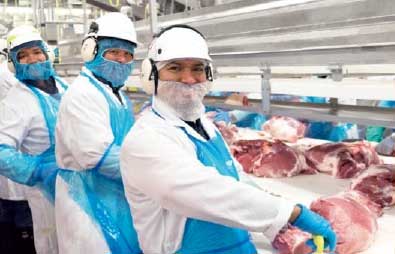 This section investigates the exciting careers of butchers – more specifically, the jobs of retail butchers. They're similar but not quite the same as industrial butchers.
Butchers prepare and sell meat and meat products
Butchers prepare meat for customers by boning, tying, grinding, cutting and trimming meat. They clean, cut, weigh, package and label products to meet customer satisfaction. Butchers also provide customer service by assisting guests in selecting products and sharing knowledge of preparation and cooking techniques.
Most importantly, butchers maintain and clean their workstations in order to reduce the risk of food contamination and adhere to food safety guidelines.
Butchers do not need post-secondary degrees
Becoming a butcher is a great career if you are looking for a job that does not require a postsecondary degree. Generally, employers only require a high school diploma or equivalent. Many butcher shops hire with no past work experience and are willing to train their employees. During this time, new hires work many hours to learn the various cuts of meat. It isn't until after a year or two that a butcher is fully trained.
However, within recent years, there has been an increase in the number of schools providing coursework related to butchery. These college programs teach students skills in meat processing, product packaging, food safety standards and customer service.
Butchers understand meat
Although it might sound like a given, butchers truly understand meat. Butchers not only understand how to cut meat, but what cuts should be used in a dish. Some trained butchers even learn how to make sausages, cure meat and roll roasts. If you want to test this knowledge out for yourselves, drop by your local butcher shop and ask your butcher a few questions.
Butchers have physically demanding jobs
Butchery is a physically demanding job for a variety of reasons. Firstly, butchers are required to stand for long periods of time and continuously repeat the same movements.
Butchers must also bend and stoop to grasp cuts of meat – something that can be difficult in cold environments. Finally, when butchers receive products from a delivery truck, they need to be physically capable of moving the deliveries from the truck to the shop. In this profession, your job is your workout!
Butchers work in cold environments
General working conditions for butchers are usually cold in order to keep meat products fresh. Butchers keep up with the cold by wearing layers and taking breaks in warmer areas of the store.
Both of these things are very important because fatigue happens faster in cold environments.
Butchers work clean
It is very important for butchers to clean their tools and work surfaces. To prevent cross-contamination, a clean butcher shop stores cooked meats separately from raw meat. To maintain cleanliness, butcher shops package meat in airtight containers and work under cold conditions. Butchers who don't keep things clean end up with very sick customers!
Butchers have customer service skills
Butchers who work in the retail stores are also responsible for directly interacting with customers. Therefore, butchers must be comfortable with talking to customers and making sure that they are happy. It is during this time that they cut, weight, wrap and price meat for customers.
Understanding what a customer wants is the key to ensuring customers come back to the store. Additionally, butchers provide advice on the nutritional value of foods, as well as the best storage and cooking methods.
Butchers have manual dexterity, an attention for detail and stamina
Being a butcher requires a wide range of skills. However, there are a few which are more essential than others. These skills include:
Manual dexterity – Butchers work in cold environments which can be uncomfortable and cause a butcher's hands to become numb. These professionals need to have the dexterity to work in both warm and cold conditions and consistently perform the correct cuts of meat.
Attention to detail – Properly breaking down a cow requires a high degree of vigilance. A single incorrect cut could ruin a good piece of meat. Not to mention in a butcher shop, but taking your eyes away from your table can mean losing your finger!
Ability to stand for long periods of time – The majority of a butcher's job takes place on their feet. Butchers are comfortable spending their entire jobs on their feet bending, twisting, turning and other associated actions. As you can imagine, this is a very physical occupation.